Bathroom
The bathroom is probably the room in the house that uses the most water. Below are some tips on how to save water in the bathroom – and most of them are cost-free!
Toilet
The average toilet can use 7 – 14 litres of water per flush so only flush where necessary. e.g. there is no need to flush the toilet if you throw a tissue in the bowl.
Make sure your toilet cistern is not leaking. A leaking cistern can waste 16,000 litres of water a year.
Install a dual-flush system or place a water saving device in the toilet cistern, but ensure that your toilet is suitable for a water saving device before installing one. Ask your local authority about 'Hippo' the Water Saver is a simple and proven water saving device to help conserve water in toilet cisterns. Every time a toilet is flushed the Hippo saves up to 3.5 litres of water.
Using the half flush on a toilet, where appropriate, can save a four-person family more than 36,000 litres of water a year.
If installing a dual flush is not an option for you, then, using a 2-litre bottle, remove all labelling and fill it with water. Place this in the cistern of your toilet. This means that you will be saving 2 litres of water every time you flush the toilet.
Note: If you find that you need to flush the toilet a second time to get rid of waste, then ensure that your toilet cistern's capacity is not 6 litres and replace the bottle with a smaller one.
For more tips and ways to conserve and save water see
Irish Water.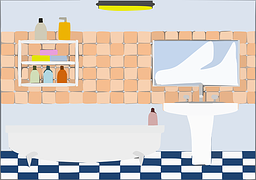 Sinks
When washing your hands and face put the plug in the sink as this uses less water than a running tap Use a glass when brushing your teeth.
Do not leave the tap running when brushing your teeth or shaving! A running tap will dispense 6 litres a minute.
Fix leaking taps - a leak of just one drop per second can waste 10,000 litres of water a year!
Showers
Take a shower instead of a bath. A bath uses as much as 80 litres whereas a shower can use as little as 30 litres (but that depends how long you stay in the shower!). This will also reduce your energy bill as you heat less water.
Avoid power showers – some can use up to 25 litres of water a minute!, so a 5 minute shower can use just as much water as a bath. Some power-showers can use up to 125 litres in less than five minutes!
Install a water efficient shower head, or put a restricting washer in it to reduce the water flow. These are much cheaper than most people expect. Take shorter showers. Not only do showers use up a huge amount of water, water heating is the biggest single contributor to green house gas emissions in the home. A 4 minute shower is plenty – time it with a clock in the bathroom or with a song on the radio!
Baths
The average bath uses as much as 80 litres of water. Why not take a shower instead. A five-minute shower can use half the water of an average bath but be aware of power showers! They can use a third more water than the average bath (125 litres in less than 5 minutes!) This will also reduce your energy bill as you heat less water.
Bath children together.
If you do take a bath, don't wait for the hot water to come – put the plug in right away.