Introduction
Did you know that we throw out about one third of all the food we buy?!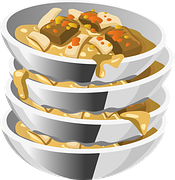 The last 10+ years has seen huge change in relation to how waste is managed in Ireland. We have moved quickly from a position of almost total reliance on landfill for managing waste to a high level of recovery of certain recyclable materials, with complex waste flows to and between different waste recycling and recovery activities (EPA, 2013).
According to the latest data from the EPA (2013):
The total amount of waste generated in the state (industrial, commercial, household) at the last full survey was 19.8 Million tonnes which is equivalent to 4.3 tonnes per person.
The economic downturn has had a marked influence on municipal waste generation. It has decreased by 17% since it peaked in 2007.
Household waste generated per person in Ireland in 2011 amounted to 367kg which is considerably less than the EU average of 438kg. Such a decrease was influenced by the economic downturn.
One third of the food we buy ends up in the bin. This can cost the average household up to €1,000 per year
Ireland is among the top performing EU countries in terms of municipal waste recycling.
One of the most worrying facts though is that, organic waste makes up almost 25% of our residential waste in Ireland, and only a small amount of that is being disposed of appropriately - organic waste comprised just 8% of total household waste collected at kerbside in 2013 (EPA, 2014). This waste could be diverted from landfill by composting. Organic food waste going to landfill results in methane and leachate by products. Methane is one of the six greenhouse gases associated with Climate Change and in fact is 20 TIMES more damaging to the environment than carbon dioxide, the oft cited greenhouse gas. It follows that there is potential to increase composting in Ireland even more.